Facebook Competitions Are Still On
WIN CUSTOMISED BEER PONG TABLES
Two competitions a month.
FOLLOW US:
---

FACEBOOK
WIN AN AWESOME TABLE.
2016 every week we have a table giveaway check it out.
---
MASSIVE NEWS FLASH
Starting November 1 ST 2015
Finally after a lot of discussions within the Beer Pong Industry.
Things are going to become very clear regarding junk beer pong tables being sold.
This will be a game changer and finally the beer pong industry will be finally protected against
fake beer pong tables being sold.
The word BEER PONG is being put on any type of table and it is time to clear out these types of tables to protect our game.
STAY TUNED.
There will be an e-mail to members & Facebook posts and on radio & TV this will be big.
---
Go to www.facebook.com/beerpongaus
Check out our Competitions for 2015
Generally we have a giveaway every month so you have 12 chances to win.

Like us on Facebook so you never miss a great competition
---
Competitions & Give Aways
This weeks competition is on our facebook.com/beerpongaus
Starts 14/11/14 and ends 28/11/14
---
This week competition
One of our customers came up with design and thought it would be good to add to our collection.
Go to facebook.com/beerpongaus
Winner anounced Monday 26 of May
---
Week starting 5/5/14
Giveaway this week is a new table from our great mates at
Abominable Clothing.
Great selection of T-shirts with unbelievable HOT girls.
Check out www.facebook.com/beerpongaus
winner announced Friday 9th of May
Winner is Jeremy Estrin NSW
---
FIRST Competition 2014
Go to facebook.com/beerpongaus
Entries close Friday the 31st January 2014
Winner is Ali Hameed
---
Last Competition for 2013
Facebook competition
Table to be won - winner announced Thursday 19/12/13
Winner is Stacey Haseldine
https://www.facebook.com/BeerPongAUS
Wednesday 6/11/13
DONT MISS THIS ONE (YOU WILL NEED ALL YOUR FRIENDS TO HELP)
---
30/10/13
Is our new Summer Break Table. Plus cups, trays & balls with delivered anywhere in Australia.
Question. Where is the best place in Australia to spend summer holidays at:
Winner Gordon Lockeridge.
---
23/10/13
This weeks Giveaway
Redds Cup "Red frame table" only one in the WORLD. With 50 new Micro red cups and 50 standard cups & 6 balls.

Question: What is better Red Cups or Beer Pong Australia Blue cups? "think about it"
Winner Tamika Regnier
Go to https://www.facebook.com/BeerPongAUS to win.
---
16/10/13
Giveaway are mini redds Cups 10x50 packs to 10 winners
Question: Why are Jelly Shots great?
Winners: Andrew DcDonald
Aleli Bautirta
Stephen Bowser Bowden
Nathan Nugget Walker
Sam Cohen
Gareth Jarman
Royston Jarman
Adam Tripoli
Delwyn Juien
Kristy Mclaren
---
9/10/13
Facebook giveaway
Exclusive Bombshells Beer Pong Table. Worth over $280.
With cups, balls & carry case.
Question: What would be the best party to have a BOMBSHELLS Beer Pong Table at?
Winner Durian Preston
---
1/10/13
Pac-man Table
giveaway on Facebook
Winner: Ben Knees Alexander
---
24/9/13
Devils Playground Table giveaway Facebook
Winner :
Stephen Radclife
---
10/9/13
Custom USB
Beer Pong Card giveaway Facebook
Winners
Kate Hannah

Tim Palmer

Adam Schmidt

Chris Cheesewright

James Parker

Heather Murdoch

Hana Brown

Farrah Kedge
---
6/9/13
Inflatable Beer Pong Table giveaway Facebook.
Winners
David Reekie

Ben Ortmann

Simon Osborne

Taylor Brady

David Stic Martin

Ryan Sofoulis
---
Our last big competition hit!
Which should be our NEW design to go on sale!!
over the last month we have chosen 6 people's design that we think are AWESOME!
we'd like you to go to our facebook page and put a Vote down on one or more of these designs to let us know which design we
should start selling to the public!!
this was the competition..


Imagine your own Custom made beer pong table design..what would it be? ....and what would it look like?
That's what we want to KNOW!
So, in 200 words or less tell us what your design would be, and what it would look like...Simple.
1st.--Email your idea, along with your name, contact number and state you live in, to Mason@beerpongaustralia.com.au
2nd.-- On the 24th of June we are choosing the top 8 designs that we think are the best!
3rd.--If your design is chosen, you will be contacted, and a picture of your design will be created and posted on ALL Beer Pong Australia Facebook pages.
4th.-- You will then have 2 weeks to get all your mates to 'Like' the photo of your design,
5th.-- After 2 weeks the people with the most 'likes' on their photo will get their design made, and sent out to them, congratulations...but the person out of that 3 with the MOST likes will also get their table put on the Beer Pong Australia website and SOLD...and for the next 6 months you will recieve $20 everytime your table is sold!
BOSS.
Get your entries in Before June 30th !
If your design gets chosen this is the beer Pong pages that your design will be on:
www.facebook.com/beerpongvictoria
www.facebook.com/beerpongbrisbane
www.facebook.com/beerpongperth
WINNERS!
1st. Kieren- Pac Man
2nd. Guy - Fooseball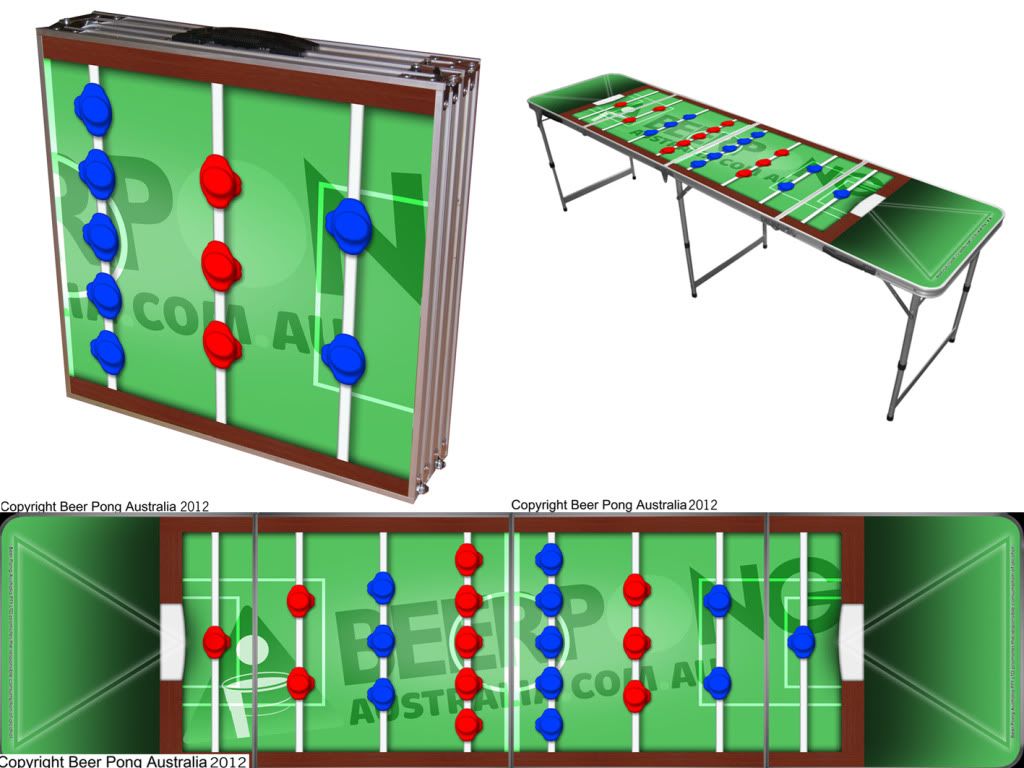 3rd. Tyson- Beer Labels
---
Beer Pong Australia always likes to have competitions and if you're a member you get better oppertunities to WIN!
Join up today, it's free, it takes 2 minutes and you will have a chance to win!
Click the link below to take you straight to the quick and easy member form;