This Is The FIRST EVER Beer Pong Retail Store In Australia!
Established since 2009
South Australia is now the proud owner of Australia's first ever beer pong retail store.
Located in Lonsdale 5160, Southern Adelaide.
---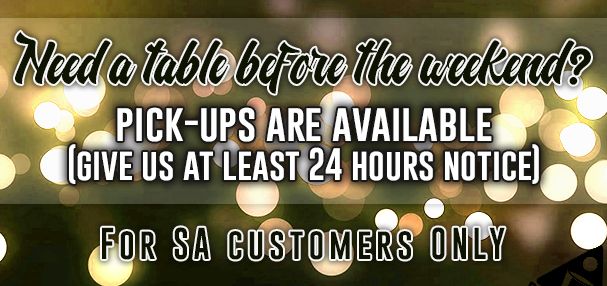 In-Store Pick Ups Available
Need a table before the weekend or special event?
For SA customers ONLY, pick-ups are available as long as you let us know
at least 24 hours beforehand & collect order the next day!
$100.00 all tables (excluding custom designs)
Pay CASH or EFTPOS in store.
Important Note:
Note: ALL tables that are listed on our website are available in-store.
If you're looking for a particular table design,
Call or E-Mail us in advance to let us know
and we can arrange to have it ready for you when you arrive.
Call: 8326-3302 or
sales@beerpongaustralia.com.au
NOTE: All tables are made in-house to order.
Pick up times are between:
6.00am-3.00PM Monday to Friday
6.00AM-11.00AM Saturday
Address: Unit 8 / 65 O'Sullivan Beach Road
Lonsdale SA 5160
(Parking entry off of Aldenhoven Road)
Ph: 08-8326-3302
E: sales@beerpongaustralia.com.au
---
Why Don't WE Have A Retail Shop In Your State?
This is a test run to see the response. And if all goes well, we will roll out shops throughout Australia. Fingers crossed!
Special note to retailers around Australia: If you're interested in stocking Authentic Beer Pong tables drop us an e-mail via sales@beerpongaustralia.com.au.
---
Buy It Cheaper!
Authentic Beer Pong Tables in store
(Limited stock available due to size of shop)
Please call or email ahead to check stock availability.
Ph: 08 8326-3302 E:sales@beerpongaustralia.com.au
Table of Dreams
Metro
Aussie Flag
Basketball with rules
Superman vs Batman
Beer Label
Beer Can
Oz Throwing Guy
USA Throwing Guy
Big Boys Game (Boy)
Dragon Ball Z
NFL USA
Pac-man
Pokemon
Super Mario
Star Wars
The biggest advantage in buying from the retail store is that the prices are much cheaper as we don't have to pay excessive freight costs.